What do the five Nguyễn Siblings do when we're all together for Family Dinner?
We throw a Lūʻau of course!! Because if we can't manage a visit to the islands together, we bring Hawai'i to us! Or…at the very least, the Spirit of Aloha!  ❤
And before you feel bad for our brother being the only boy growing up with 4 seesters—-think again! He had it made! And it probably helped that he was quite rascally…which is completely where his son Leonidas gets it from!
As for putting our Lūʻau together, there were some definite essentials we had to have. Onolicious food, tropical cocktails, island music blaring, hula performances, whimsical decorations, colorful island gear, and…..
THIS GUY!!!
You can't have a Lūʻau without the traditional blowing of the conch shell to open the festivities!
Okay, okay…maybe this is the one time you can feel a little bad for our brother—when four of his sisters and his wife force him into a grass skirt, ti leaves headdress and shirtless. But he's used to this kind of thing and quite frankly,  just goes with it.
In case you're curious, when V attempted to blow the conch, it kinda sounded more like a Wookie-Call. He quickly defended it by saying that Wookies originate from a planet that is rather jungle-like…. so it was totally appropriate.
And yes–I did fact check that. Kashyyyk is a tree covered planet with a jungle terrain. Go figure V would know that….

In addition to having a wide range of Star Wars knowledge, my brother also happens to make killer Piña Coladas!  They were creamy, weren't too sweet, and had that wonderful tropical vacay feel. Definitely packed a punch and you didn't even taste it—trouble.

With a cocktail or two in our tummies, it was time to take some more pics. Here's our sister P and her fam that came down from San Francisco.
And look at Kaelani's little face. How freaking adorable is she?!

So adorable that I had to post a few more pics of her and her mama. ❤
This time around, Kaelani only got to hang out for 5 days with her crazy So Cal family–so we can't wait to see our munchkin again in November.

Then there's brother V and his fam! They're an adventurous and carefree bunch who had lived in New York for the past 15+ years.
But guess what?!
They've moved back to Southern California for the next year!!! Yahoo!!

Which means more–LOTS MORE, shenanigans at family dinner for the next year!

We've missed them!!!

At some point during our photo shoot, I took a pause to mix up our next set of cocktails for the evening — Li Hing Mui Margaritas!
Li Hing Mui is a salted, dried plum that is somewhat tart, a bit sweet and incredibly addicting. In Hawai'i it's used to flavor everything from shave ice, sour candies, fruit, ice cream, malasadas and in cocktails like these margs.
If you follow me on Instagram you'll remember that I took a bag of Li Hing and soaked them in tequila for about 4-5 weeks. It dyes the tequila to a dark brown-orange hue and the flavor is incredible. I mixed a few ounces of the magical infused tequila with Cointreau, fresh lime juice, simple syrup and then poured it over ice in glasses rimmed with coarse salt and li hing powder.
BOOM! I was instantly transported to the beaches of Haleiwa.
And they were a BIG hit with the sibs!

We were then equipped to take some more fam pics.
Here's seestrah N and her fam (minus Princess Leia who was hanging out with Bella at their house).

Nini (left) is 16 and just started her junior year in high school. Nina (right) just turned 18 and started college a few weeks back.
Which all results in me having periodic meltdowns on how grown they've become….
Wahhhhhhh!!!

Here's seester T and her fam — total naturals when it's picture time!

Oh these two love birds……..

Before we took more pictures, we needed some apps to hold everyone down. And we cannot, I repeat– CANNOT have a Hawaiian themed event without mounds of SPAM Musubis!
It would be just sacrilegious!
Nini did the majority of the musubi assembly rolling sticky rice with crispy SPAM, soy sauce and furikake in thick sheets of nori.
As for brother….I don't think he rolled any but I'm quite certain he had gobbled at least 4 of them.
And FINALLY!
A shot of all of our munchkins ranging from 18 years old to 22 months!
I can't begin to explain how hectic it was trying to get a pic of them all looking at the same general vicinity!
Sure, Luna's tongue was out but I like to think she was channeling the Maori warriors while they did the haka.

I. CAN'T. HANDLE. ALL. THIS. CUTENESS.
#CousinLove

In this auntie's opinion, all of our kiddos are miracles. But this particular munchkin is a medical miracle! (Hope you read that in Ross's voice.)
Since she doesn't get to see us too often living in SF, it usually takes her a few days to get used to all the noise and insanity that is her family.
Unless you're THIS GUY!
I swear, my brother-in-law, C, is a legitimate baby whisperer. ALL KIDS love him and babies always want him to hold them.
Ms. Kaelani spent the entire 5 days walking around yelling "BAH-BEE!!" in search of her beloved uncle. She hasn't perfected the Vietnamese pronunciation of C's title as Bác Bi yet but it's so heart-melty to hear her try.

This little lady has practiced hula and Polynesian dance for several years now and it's a beautiful sight to see her perform.
She treated us later that night with a poi ball performance but unfortunately this auntie blew it and wasn't able to record it with enough lighting to share with y'all. Next time–I promise!
We couldn't let T's neighbor's plumeria tree not be put to use on the night of our Lūʻau!

Alright, enough pics of my fam bam for now. Let's get to the food, shall we?
As I had mentioned, we were going with Hawaiian/Lūʻau grindz for our menu. Things that you may find on one of the islands on a lunch plate or dishes that we adore when visiting.
First up–an homage to Helena's Hawaiian Food in Honolulu. Helena's is a tiny little spot serving up local Hawaiian grindz since 1946 and has even earned a James Beard Award. When at Helena's, be sure to order the Squid Lu'au, Laulau and their fantastic Short Ribs Pipikaula.
Pipikaula is a dried beef that is first marinated and hung up to dry out (think "dry aged"). They are then fried or grilled up and are just so ono! T took the lead on these beauties but instead of the hang-dry method, she chose to dry them out in a low-heat oven. Right before serving, R threw them on the grill to get a little char.

N made these little bundles of Steamed Monk Fish in Banana Leaves which was a slight variation of the beloved Sam Choy's steamed grouper. The fish was quickly marinaded in tamari, fish sauce, sugar, lemongrass and Sriracha. They were then wrapped up in banana leaves with a few slices of red bell pepper and then steamed. Once done, they were finished with a dab of bright and fresh herb butter.
I'm definitely making these again—and maybe sub with a black sea bass or even some snapper?
Endless options!

As far as I'm concerned, Kālua Pig has got to make an appearance on any Hawaiian menu. Sadly, we did not get a whole pig so we didn't get to dig an imu in my seestrah's back yard to cook it. So, I opted for my trusty CrockPot version which is pretty dang close — especially since it's slow cooked in banana leaves and finished off with Hawaiian sea salt and a few shakes of liquid smoke.  The recipe can be found here.
Nina made a request for Kālua Pig and Cabbage, so in the last 30 minutes of cooking, I added in shredded cabbage so that it cooked down a bit but still had some bite to it. I highly recommend making lots of Kālua Pig as leftovers are brilliant in sliders, fried rice, burritos or even over fries!

And of course, if you've ever found yourself on O'ahu, you most likely made your way up towards the North Shore to the shrimp farms….and to Giovanni's Shrimp Truck!
P whipped up a HUGE batch of Garlicky Peel-and-Eat Shrimp Scampi as an homage to the Giovanni's and she did them proud!
N also pulled together this colorful and fresh Tropical Slaw. And let's just put it out there that she definitely got extra credit for the plating!
Soooo purrrrtyyy!!!
And what's more Hawaiian than Mac Salad????
Ok, I admit it–I have no idea how Macaroni Salad found its way into Island Cuisine. There's nothing tropical about tubs of mayonnaise but here's the thing….. I cannot, I WILL NOT have a lunch plate without a big ol' scoop of Mac Salad! It would be OH SO WRONG without it. So I made lots of it….LOTS of it!
And yes, you must use an ice cream scooper to plate Mac Salad.
Admittedly, the picture quality isn't good but I nearly broke my neck climbing on a high chair to take it.
Points for effort???

Styrofoam Compartment Plates?!
HELL YES!
I realize it's kitschy but it was our homage to the styrofoam containers that lunch plates come in. We just had to do it.

Quick pic!
And can you just look at our little guys in the front????
Apparently the theme was "spoons"…..

I think I failed to mention that this Fam Din was super special because not only did we have all the Nguyễn sibs together, but we were also celebrating this gal's 18th birthday!!!!
Oh our sweet, sweet Nina….. How have 18 years just flown by???
And although this pic may look a bit weird since I took it through a screened window, I wanted to share it because to me, it just captures her.
And as you may recall, when it's your birthday — you pick the menu and dessert!!!
This proved to be more difficult than you may think. P agreed to make the dessert but Nina pupu'ed (pun intended) all of our ideas! But one thing is for certain–the gal loves chocolate! So seestrah ended up baking rich and decadent brownies that we served with coconut gelato.
And because we're OVER THE TOP— we served two desserts!
And because V and L totally embraced the Fam Din theme and their move back to Cali by buying this….
….AN INDUSTRIAL STRENGTH SHAVE ICE MACHINE!!!!!!!
Shave Ice is a quintessential Hawaiian treat! Don't confuse it for a snow cone or slushee–it's so much more!
Hawaiian Shave Ice is fluffy, snow-like ice that is gorgeously shaven from a block and then dressed with deeply intense fruit syrups. Not just any ol' machine can achieve the perfect texture…..so V and L ordered this beautiful blue behemoth that weights a good 60-70lbs!

Then they made these great tropical syrups for us to drizzle over the snow— lilikoi (passion fruit), strawberry and pineapple.
My favorite? The lilikoi!!!
ONO, ONO, ONOLICIOUS!

And it was so fun and interactive!!!
You better believe they'll be lugging that machine all over to our family parties for the next year while they're here. They're definitely going to get their moneys worth!

The girls approved!!! (Me included!!!)

All in all, it was a crazy, CRAZY dinner but so, SO much fun!!! I can't wait til' we do it again!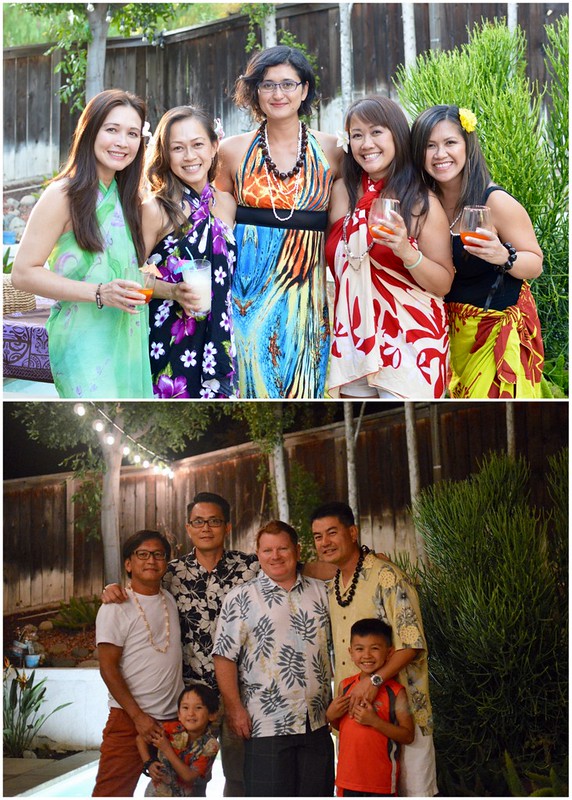 And isn't it wonderful when your family is as over-the-top and bonkers as you are?
ALOOOOOHAAA!!
\000/
______________________________________________________
This Month's Family Dinner Menu
Cocktails:  Piña Coladas, Li Hing Mui Margaritas
Appetizers: SPAM Musubi
Entrees: Short Ribs Pipikaula, Steamed Monk Fish in Banana Leaves, Kālua Pig and Cabbage, Garlicky Peel-and Eat Shrimp Scampi 
Sides: Tropical Slaw, Mac Salad, White Rice
Dessert: Chocolatey and Decadent Brownies with Coconut Gelato, Hawaiian Shave Ice