Hiccup!
Oh! Excuse me!
Hiccup! Burp! *blush*

Sorry Gang….I've spent the past weekend tinkering around the kitchen with Guinness. I HAD to because today is St. Patrick's Day and I just couldn't let y'all down. I needed to share something so deliciously wonderful —that was of course, made with Guinness.
But what was I to make with the thick, wonderfully rich and chocolatey stout?
Tacos? Ribs?
So many options yet so few hours in a weekend.
And finally, despite the crazy 90 degree heat wave we were having in San Diego, I cranked on the oven to make pot roast.
I figured the sauna-like environment I had created would let me sweat off at least 10 pounds.
Win-Nguyen situation.
I settled with a fairly straight-forward method for the pot roast. Quick sear of the beef, browning of aromatics, added some liquid and then braised it all in a dutch oven for a few hours.
But the kicker?
The GUINNESS of course! Plus, the coriander seeds with tomatoes added another level to the flavors that were then punched up with brightness by the fresh parsley and lemon zest to finish it all off.
Serve it with mashed potatoes, parsnip puree, polenta –heck, or even as a sammich'! SOOO GOOD!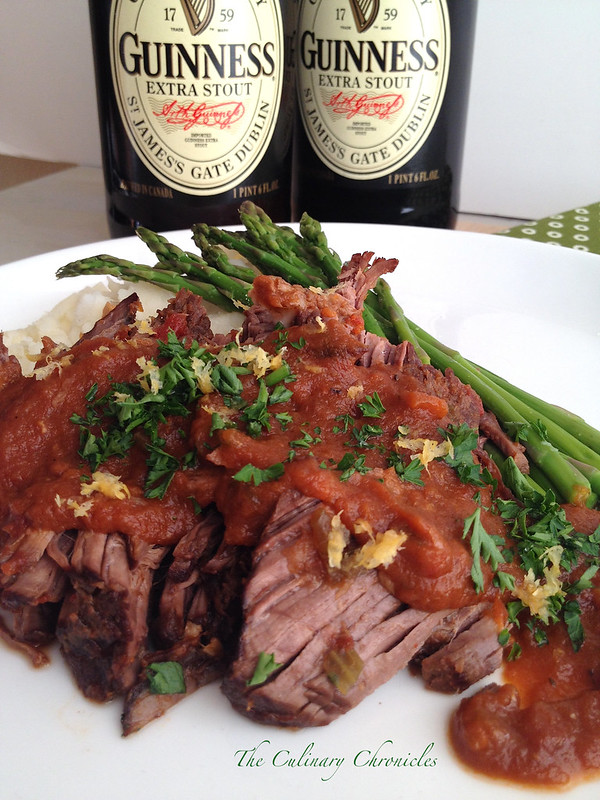 And with that dear friends, have a HAPPY ST.PATRICK'S DAY! Sláinte!
___________________________________
Guinness Braised Pot Roast
Serves 6-8
Ingredients:
1 beef chuck roast (approximately 3-4lbs.) trimmed and cleaned
black pepper
kosher salt
½ cup all-purpose flour
4 tablespoons olive oil, divided
2 cups diced celery
2 cups diced carrots
2 cups diced white onion
½ teaspoon red pepper flakes
1 can (28 ounces) diced tomatoes
3 cups Guinness or other Stout of your choice
2 heaping tablespoons minced garlic
8-10 sprigs fresh thyme
8-10 sprigs fresh parsley
1 teaspoon black peppercorns
1 teaspoon coriander seeds
3-4 dried bay leaves
½ cup chopped fresh parsley
zest of one lemon
Heavily season the beef with kosher salt and black pepper. Roll the chuck roast in flour and dust off any excess. Heat 3 tablespoons olive oil in a dutch oven or other heavy bottom pot that is oven proof over. Once the oil reaches medium heat, sear each side of the beef until golden brown, about 3-4 minutes each side. Once browned, remove the beef to a large plate.
Add the remaining olive oil to the pot. Add the celery, carrots, and onions and cook over medium heat until softened but not browned, about 7-8 minutes. Add in the garlic, red pepper flakes and cook for an additional 2 minutes. Stir in 1 teaspoon kosher salt, ½ teaspoon black pepper, can of tomatoes with its juices and bring to a simmer. Pour in the Guinness (or other Stout) and allow the liquids to come to a boil.
While the liquids come to temperature, take kitchen twine and tie the thyme and parsley together into a small bundle. Create a sachet with a small piece of cheese cloth and place the black peppercorns, coriander seeds and bay leaves in the center. Bring the corners of the cheese cloth together and use additional kitchen twine to tie the sachet together.
Once the liquids in the pot have come to a boil, place the beef roast back in along with the bundle of herbs and sachet of spices. Allow the liquids to come back to a boil, cover the pot with an oven proof lid and place into a preheated 300 degree F oven. Cook the beef for 3-3½ hours until the meat is fork tender.
Carefully remove the roast to a large plate and cover with foil. Remove and discard the bundle of herbs and sachet of spices. Skim off and discard as much oil/fat from the surface of the vegetables. Using an immersion blender, puree the vegetables until it becomes a fairly smooth sauce. Taste and adjust with additional salt or pepper as needed. If you don't have an immersion blender, you can use a standard blender or food processor.
Slice the beef – it should be very tender and could be pulled apart with forks. Plate the beef and spoon the sauce over it. Top the beef with chopped parsley and lemon zest. Serve with mashed potatoes, polenta, etc. Enjoy!