A few months before Kaelani's birthday, she told her mom that instead of going to Hawai'i for her birthday, she wanted to spend it with cousins/family.
Now that's fantastic for so many reasons but right off the bat–two thoughts came to mind.

One….
How freaking adorable is that? Baby girl ADORES her big cousins so much that her birthday wish is to spend time with them.

And Two…
At four years old, she's such a baller that she's been able to celebrate her first three birthdays in Hawai'i and this year, she's like "eh…been there done that."


Here's hoping that when she gets older, she'll still want to bypass the Islands to hang out with us.
Better yet–why don't we ALL just go to Hawai'i together?! MUCH better plan!

Needless to say, Kaelani's parents agreed to her request so we coordinated our monthly Family Dinner to coincide with their visit.

When asked what birthday theme she wanted, Kaelani quickly said Moana! Maybe I should also mention that the week prior, she would be having a Frozen theme party with her friends in San Francisco.
Yes, two birthday parties. She knows how to live her BEST 4 year old life!

As for food, she just asked for SPAM Musubi to be on the menu. So if there's Moana and SPAM, we obviously were going with a Polynesian lens.

They spent the beginning of their visit hanging with Pops and eating all of the deliciousness that So Cal has to offer. It was followed by spending the night at Seestrah T's place in Fullerton so that Kaelani could spend some QT with Maya and Lucas.

On the day of Fam Din, they headed to Brother's casa in Diamond Bar to play in the pool and hang out with Luna and Leo.
The rest of us quickly followed and got down to some cookin'!

With an island theme in mind, N made us these festive drinks using "P.O.G." – P.O.G.-tails!
You can't have a trip to the islands without downing a few gallons of "P.O.G." – a blend of passionfruit, orange and guava juices.

She mixed up the fresh juices with some rum, lime juice, mint and rimmed the glasses with Tajin. Delicious!
The kiddos had straight up P.O.G. which is darn tasty in and of itself.

Seestrahs! ❤

It was about this time that I heard brother tinkering around with his Traeger Smoker. I turned around and found him piling up the grates with chicken wings — yes, please!

After some time in the smoker, he brushed them with a layer of BBQ sauce and let them finish until they turned into these beauties!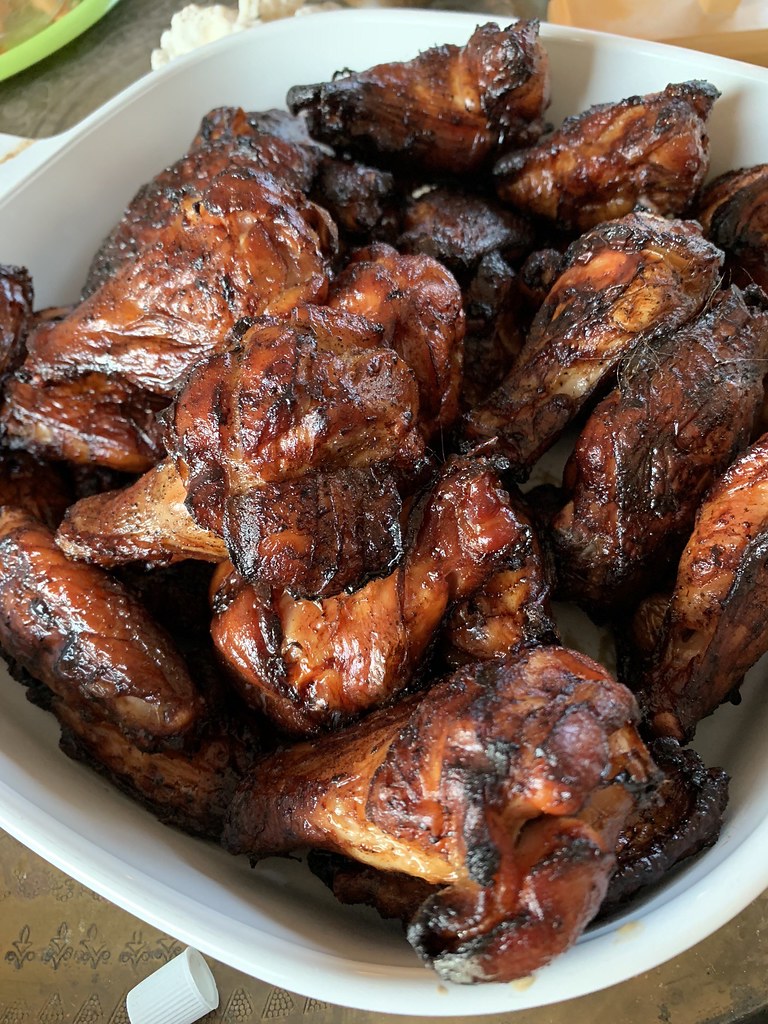 I had 2….ok, like 4.
Smoked Chicken Wings need to become a regular in my life.

Then Nina was up to bat to prep the birthday girl's one food request – SPAM Musubi!

Now that is a fantastic rice to seaweed to SPAM ratio! Awesome job, Nina!
Most of the time when you pick them up at places, they put a huge block of rice in the musubi – way too much. These were just right!
ONO-licious!

Then it was Nini's turn to shine and she got to work on the last appetizer.
Yes, we had 3 appetizers – we like options.

She made her signature Spicy Tuna Poke and served them with Seaweed-Rice Crackers and Taro Chips.
There's something about that crack sauce she whips up that makes this poke so freaking delicious. You really can't stop shoveling it into your mouth – so dang good.

She really needs to start bottling/selling that crack sauce.
Oh-and then Brother jumped back on the smoker because he had some venison stashed in the freezer that he decided to turn into Smoked Venison Jerky.  So I guess technically–that makes it four appetizers???

Oh look!
A monkey found its way into the backyard.

After a quick shower, Kaelani decided to leave her mark on V & L's kitchen table.
Don't worry–it was encouraged. In fact, it's become a fun tradition for folks that visit their place to tag up their table.
Some game was on that night that kept the Dudes glued to the couch for a few hours.

And the prep work continued…..
…while the munchkins decorated bags to keep their loot in.
What loot you ask?

LOOT because there was a filled piñata!
Now, I have to say that I had a moment of mixed feelings on this.
Sure–Kaelani wanted a Moana themed Fam Din and her auntie N got her this piñata to fit the theme.

But when it came time for the kiddos to break open the piñata, I had some serious guilt that they were beating up Moana!!

But hey, at least they used a light sabre to break her open.

Even Seester T felt the need to shed a tear for Moana.

But Kaelani didn't seem to mind at all and gave Auntie N a BIG hug for her piñata.

And gave some love to Uncle C, too!
At that point, someone reminded us to put a pause on the shenanigans because it was dinnertime.
For the entree, T made Shrimp and Fish Tacos. They were topped with a cabbage slaw, lots of pico de gallo, avocado and smothered in hot sauce.
YUM!

P made SPAM Fried Rice to go along with the tacos. If we hadn't eaten so much earlier, I would've requested that she top it with crispy fried eggs.
But even I know my limits people.

But then N decided to be really extra and took P's SPAM Fried Rice…..

….and put it into a pineapple bowl.
I definitely do not like pineapple in my fried rice (or pizza) but I give her an "A" for effort.
We then rolled from our dinner chairs to the couch to digest our food and chat some more.
I'm sure you're thinking….
DAMN. They sure do like to eat!
And you're 100% CORRECT! But we also like leftovers, too!

And then someone was ready for her birthday cake.
YES – we were full. But do you want to be the person to tell her wait even longer? Nope-not me!
So we all stood up, did a little jiggle to make room in our bellies and then focused on desserts!
I  made Kaelani this Chocolate Moana Cake. It was 3 layers of rich, dense chocolate cake that I covered with vanilla bean swiss meringue buttercream. I decorated the cake with handmade fondant plumerias, white chocolate shells, brown sugar "sand" and of course– the Heart of Te Fiti, also made of fondant.

There was a moment when I considered molding the characters out of fondant as well, but when you're trying to replicate such recognizable characters, it's REALLY tough!!! The slightest imperfection can make them look wonky! So in the end, I cheated and ordered a personalized edible topper sheet. It's really quite neat! The topper is an edible icing sheet that is then printed with food color. It comes on a sheet that you peel away (kind of like a label) and then place on the cake. You do need to let it set for awhile so that it can soften into the buttercream but I was really impressed with the vibrant color.

Our birthday girl really liked it!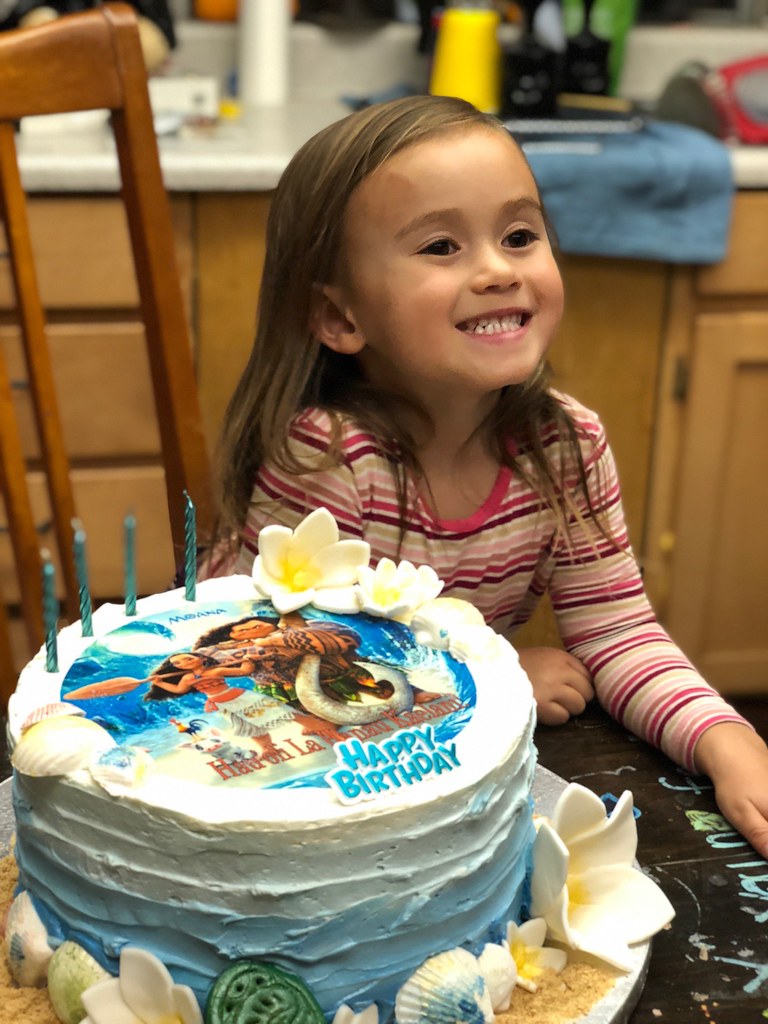 And yes, it weighed a gajillion pounds!
After we sang to her and she blew out her candles, it was time to dig in.
A little peek inside….

Here's K giving me a big hug to say thank you.

I'm such a sucker for this little adorable munchkin.

But we weren't done yet!
Here's the situation with swiss meringue buttercream.
It's personally one of favorite frosting to not only use to decorate cakes/cupcakes with but I also prefer it's flavor and texture. Since it's meringue based, it's really fluffy and can maintain its structure really well.

Which means when I make batches of it, I'm left with TONS of egg yolks…..and I just can't throw them out!
So I typically will use the leftover yolks to make some type of custard based dessert — and this time, it was Vanilla Bean Crème Brûlée.

No complaints from the family because it's a fan favorite!
Also, if you hold off on torching them, they'll keep in the fridge for a few days. Then, when you get a hankering, just cover the tops with a layer of sugar and brûlée away!
And let's not forget about this beast!
Yes, dessert #3
Truthfully, we meant to crack out Shave Ice machine earlier in the day but it totally slipped our minds!
We couldn't NOT use it that night….it was an Island themed dinner, after all!
So we made a couple of cones that were either topped with a Vietnamese Coffee base or a Blueberry Syrup that Leo helped L make earlier that day.
I can't believe they're actually sitting down after all of the sugar we consumed.

But birthday girl was rearing to open up her gifts.

And then somehow this happened.
Luna inherited a violin that one of her cousins was no longer using. She hadn't started lessons yet but it just so happens that seester N used to play waaaaaaay back in the day! So N gave the kiddos a few instructions for them to play a few chords.

And of course, K wanted to give it a try, too!

Needless to say, youngest munchkin had a BLAST with her family for her birthday.
And for us, whenever we can get all 9 of them together (yes, including the 2 fur babies), our hearts are incredibly filled. ❤

Here's a little video if you want to see the real chaos behind the scenes!
_______________________________________________________________________
This Month's Family Dinner Menu
Cocktails: POGtail, Various Wines and Beers
Appetizers: Spicy Tuna Poke, SPAM Musubi, Smoked Chicken Wings, Smoked Venison Jerky
Entree: Fish and Shrimp Tacos
Sides: SPAM Fried Rice
Dessert: Moana Chocolate Cake, Shave Ice, Vanilla Bean Crème Brûlée