I'm taking a quick break from the Fam Din recaps (told ya' I would be making up for lost time!) to say Chúc Mừng Năm Mới!!! 

Yes, it's that time again…. Tết – the Vietnamese Lunar New Year!

All of the my Tết prep has been dutifully followed.
The house is sparkly clean, the altar is up and I popped into the bank to get "new money" to fill the red lì xì envelopes for the munchkins.

And OF COURSE, there has to be lots of "lucky" food!
There will be tons of noodles (longevity), fruit (auspicious) and Bánh Tét – steamed rice cakes (prosperity).
And it wouldn't be the new year if I wasn't making lots and lots of dumplings that symbolize wealth. I'm fairly certain that I've made a couple hundred dumplings this month alone!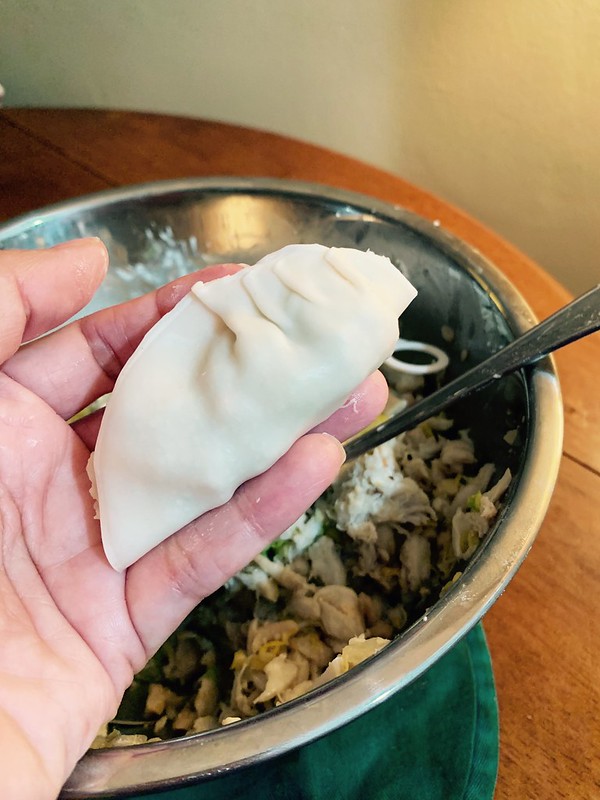 Since the Year of the Pig rings in tomorrow, I thought I would take a moment to share with you these scrumptiously decadent dumplings I made for family dinner the other week.

Seester T had requested some type of crab dumplings for her Fam Din menu (more on that soon) so I got to work creating a filling that was truly indulgent and delish.

Since I wanted the crab to shine, I kept the filling quite simple and only supplemented the shellfish with beech mushrooms and cabbage. I did toy around with the idea of adding water chestnuts because I thought the added texture would be nice. But a quick convo with seestrah N had me doubting it.
Good thing too because I did a quick straw poll at dinner where I found out that most of my fam do not like water chestnuts. Who knew?

I will also say that this is definitely one of the times that I skipped the dirty work and bought pre-shelled lump crab meat. Who the heck wants to be picking through shells to get a pound of pure, luscious crab meat?!?
I definitely didn't!
But it you're up for it, more power to ya!
ps. I got mine at Costco. The quality is reliable and the price is reasonable.

Once the filling was made, it was time to assemble. I did a little different fold on these dumplings that made them look like cute little pouches.

I started off with my tried and true pleated method but then coiled the edges around to seal them up.
I was quite happy with how they looked after they steamed up. ❤

I suggest serving them with a generous drizzle of my homemade Sichuan oil but even a quick dunk in my soy-black vinegar sauce was delish too!

I got some solid feedback from the Fam on these so they'll definitely be making appearances in the future. Added bonus – since the filling is so simple, they were actually quite easy and quick to make.
Though, I've got to give Costco some credit there for knocking out a few hours of manual labor. Thanks Costco!

So with that, dear Friends– Here's to a wonderful New Year! May yours be filled with health, prosperity, joy and endless Foodventures!
_________________________________________________
Steamed Crab Dumplings
Makes approximately 45-50 dumplings
Ingredients:
2 cups finely chopped Napa cabbage
kosher salt
16 ounces cooked lump crab meat
4 ounces white beech mushrooms, chopped
½ tablespoon finely minced garlic
½ tablespoon finely minced ginger
1 tablespoon Shaoxing wine
2 teaspoons toasted sesame oil
1 tablespoons fish sauce sauce (more, if needed)
½ teaspoon black pepper
50 thin dumpling wrappers
serve with: chopped scallions, sesame seeds, Sichuan oil
Place the cabbage in a colander; sprinkle it with about ½ teaspoon salt and let sit over a bowl for 20 minutes. Wrap the cabbage in a cheesecloth or clean kitchen towel. Squeeze out and discard the excess liquid and place the drained cabbage in a clean bowl.
Add in the crab, mushrooms, garlic, ginger, Shaoxing wine, sesame oil, ½ teaspoon salt, fish sauce and pepper. Taste and add more fish sauce if needed.
Begin assembly of the dumplings. Lay one dumpling wrapper on a flat surface. Dip your finger in water and moisten the edge of the wrapper. Place about 1 tablespoon of the filling in the center of the dumpling skin. Pick up the dumpling, fold it in half and pinch the center together. Starting from the center, make about 4-5 pleats on the right side of the dumpling. Repeat with the left side of the dumpling so that all the pleats point towards the center. Wet one corner of the dumpling and wrap/coil the other end together. Pinch and seal so that it creates an enclosed pouch. Place the dumpling on a baking sheet and continue until all the filling/wrappers have been used.*
To cook, arrange the dumplings in a steamer (lined with cabbage leaves or parchment paper) and steam for 7-8 minutes. Transfer the dumplings to a platter and sprinkle the tops with scallions and toasted sesame seeds. Serve immediately with Sichuan oil or your choice of sauce.
*If you would like to freeze the uncooked dumplings, place the baking sheet directly into freezer for 2-3 hours after you have assembled them. Be sure that the dumplings are in a single layer and are not touching each other. Once the dumplings are frozen, you may transfer them to a sealed container. They can be kept in the freezer for a few months and should be cooked frozen. Add 1-2 additional minutes to the cooking time when steaming.