I am a bit behind on our Sunday Family Dinner recaps — and not because the menus weren't memorable. But late spring-early summer is always a crazy time.
But SHAME ON ME because May's menu was my choice — Steakhouse inspired fare!
Now I have to admit that we were all over the place that day and were running so behind on dinner. We usually get together around 3-4 pm to prep/cook/drink together before dinner is actually done. But our niece had her semifinals (that turned into finals) lacrosse match (GO PIONEER!!!) so we didn't get to big seester's casa until after 6:30.
Things were a bit rushed when we finally got home so we definitely needed a moment to breath and enjoy a cocktail. And my go-to at steakhouses are always an extra dirty Grey Goose Martini followed by some red vino.
A MUST!
For appetizers, I had initially wanted to go with roasted shrimp with homemade spicy cocktail sauce. But when we had gone to the store that morning, we saw these GORGEOUS and GI-NORMOUS Alaskan King Crab Legs –so the poor shrimp were scratched off the menu.
Big seester steamed the incredibly sweet crab and we dunked them into cocktail sauce and liquid love (aka melted butter).
I.N.C.R.E.D.I.B.L.E.
For the main course, I convinced the sis to make Thyme Popovers because I'm obsessed with popovers. They were so light, crisp and buttery –just lovely. Popovers aren't too difficult to make but they do take some time to bake and you need to inhale them straight from the oven. And since we don't own a score of popover pans nor have multiple ovens to bake them all at once, you don't see them too often at our dinners.
And let's face it….we needed a bit of greens–even if we drenched them in cheese and dressing. Since the majority of the fam aren't fans of blue cheese, we opted for Caesar Salads instead of a Wedge Salad.
My niece, Nina, used Martha Stewart's dressing recipe that can be found here. That's right kiddies—there's anchovies in traditional Caesar dressing! It's what gives off the briny, salt, deep flavor.
Since baked potatoes and mashed potatoes are standard fare at steakhouses, I decided to combine the two and made a huge bowl of The Ultimate Loaded-Baked-Mashed-Potatoes!
Red potatoes, roasted garlic, sour cream, cream cheese, butter, heavy cream, garlic salt, cracked black pepper–all topped with tons of crispy bacon and chopped scallions.
Don't ask the calorie count because I don't want to know. But needless to say–it was worth the mini heart attack.
And the heart of our steakhouse themed menu? Our seester's black pepper/fresh rosemary/salt crusted standing rib roast studded with whole garlic cloves.
DROOLS!
Now despite what most folks do, I almost always order the prime rib at a steakhouse. And you better believe I go to town at The House of Prime Rib in San Francisco. MAN- can my seester make a friggin' mean  Prime Rib!?
I seriously wish I had this plate in front of me right now…..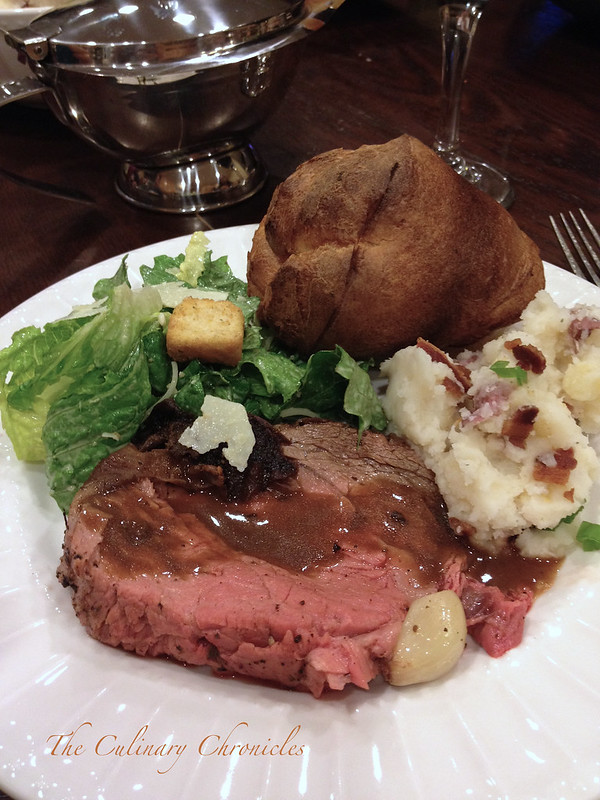 As for dessert, I requested that Nina make our favorite chocolate layered cake topped with berries. I kid you not, it's one of the best cakes ever!!

So despite our limited prep time, our Steakhouse Dinner was an incredible success. Here's hoping my siblings will let us do the same menu again soon! 🙂
This Month's Family Dinner Menu
Cocktails: Extra Dirty Grey Goose Martinis, 2007 Blackstone Reserve Cabernet Sauvignon
Appetizers: Alaskan King Crab Legs
Entrees: Herb Rubbed Prime Rib, Caesar Salad, Thyme Popovers, Ultimate Loaded Baked-Mashed Potatoes
Dessert: Aunt Beatty's Chocolate Cake with Fresh Raspberries