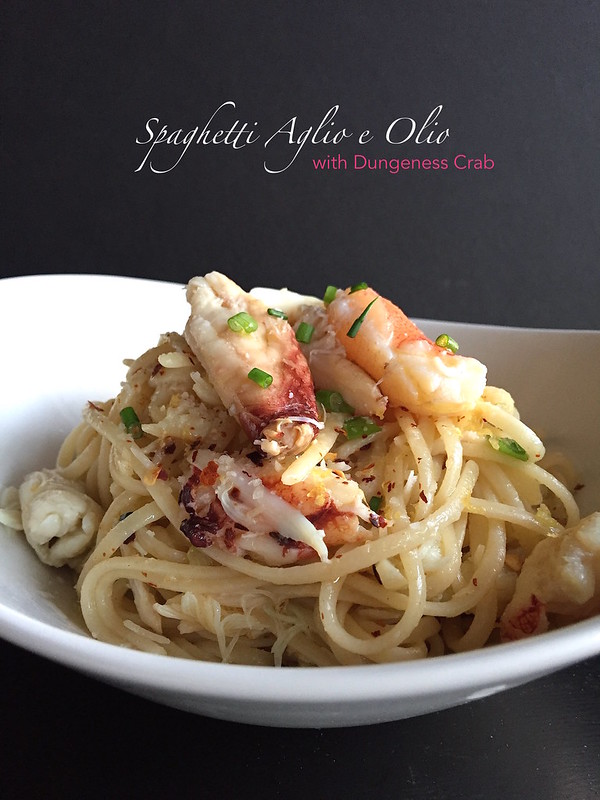 More times than not, you'll find me rummaging around my pantry and fridge without a plan in mind of what to cook.
Odd for a food blogger?
Well friends, if you've been with me for awhile—my quirkiness must have seeped through the screen by now. So there's really no hiding my "offbeat" approach to things.
Flashback to yesterday night when I was on the verge of turning into a gremlin from hunger. A full blown GREMLIN I tell ya! And I knew I only have a few minutes to pull something together before I passed out on the kitchen floor.
I needed a quick pasta — STAT!!!

In dire moments when I'm short on time (or just lazy), pasta aglio e olio is heaven sent! It's a staple pasta dish from Naples where you infuse good quality olive oil with tons and I mean TONS of garlic and a bit of red pepper flakes. After your pasta is cooked, you toss it in the infused oil and add some herbs and maybe some grated cheese. I do versions of pasta aglio e olio all of the time –sometimes adding a bit of anchovy paste or capers or even a bit of chorizo.
But imagine my utter glee when I remembered that I had some leftover Dungeness crab from the weekend. I seriously squealed "YAYYYYY!" when I saw it in the fridge and did a little dance…… yeah, it doesn't take much to get a happy dance out of this gal.

I proceeded with my standard steps for pasta aglio e olio and at the end, tossed in some of the sweet crab meat and just a few pinches of grated parm. I piled a huge mound on the plate, sprinkled some more pepper flakes on top, fresh lemon zest, chives and to add that extra level of decadence for a Monday night–a drizzle of white truffle oil.
HUMINAH! HUMINAH! HUMINAH!!!!!!
It was fantastic! The wonderful sweet and sea flavor from the beautiful Dungeness crab mixed with the garlic punch and bright freshness from the lemon zest—along with the earthy oil. It was all somehow hearty and light at the same time.
Considering I was on the verge of turning into a ravenous monster before/during the cooking process, I hadn't bothered to take step by step photos to blog about it. But once done, it looked, well–damn sexy! So I took about 37 seconds to snap a couple of pics before inhaling it.
Not only did I manage to suppress the gremlin from emerging but I rocked out a pretty awesome dish in about 15 minutes. That's a rather successful Monday in this gal's book.
________________________________________
Spaghetti Aglio e Olio with Dungeness Crab
Servings: 2
Ingredients:
kosher salt, divided
5 ounces dried spaghetti noodles, or other long strand pasta
3 tablespoons quality extra virgin olive oil
1 heaping tablespoon minced garlic
¼ teaspoon red pepper flakes, more to garnish
½ tablespoon grated parmesan or pecorino cheese
4-5 ounces cooked Dungeness crab meat
1 teaspoon fresh lemon zest
1 teaspoon fresh chopped chives
white truffle oil to finish*
Bring a pot of salted water to boil. Add the spaghetti noodles and boil for 8-9 minutes or until al dente. Drain the pasta and reserve ¼ cup of the starchy water that the pasta was cooked in.
While the pasta boils, heat the olive oil over medium-low heat in a large skillet. Add the garlic and cook for 2-3 minutes to infuse the oil. Swirl the skillet often to ensure that the garlic does not burn. Add the red pepper flakes and infuse for another minute. Carefully pour in the reserved starchy pasta water, turn the heat to medium-high and bring it to a boil. Whisk the items together and then toss in the pasta. Stir and toss for about a minute and sprinkle in the cheese and 2-3 generous pinches of salt.
Remove the skillet from the heat and gently fold in the crab. Plate the pasta between two dishes. Sprinkle the tops of each serving with lemon zest, chives and drizzle with white truffle oil. If you do not have truffle oil, drizzle with some additional quality extra virgin olive oil.
Enjoy!