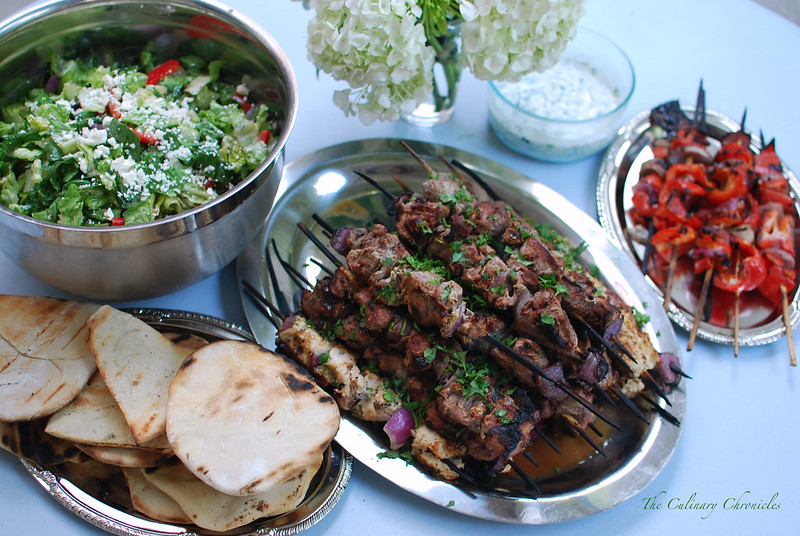 As it turned out, the only Sunday we could have our June Family Dinner was on the same weekend of our big seester and B.I.L.'s wedding anniversary party………..
The same event that we were slated to cook/bake the entire menu as well as prep the decor and floral arrangements.
No big deal right? Good thing we're robots.
But our monthly Family Dinners have become a tradition and I was determined to still make it happen without having to add any extra stress.
An easy, low-key menu was a must…..especially if we could prepare things in advance.
Enter Ina Garten to save the day!
I happened to catch an old episode of hers on TV where she was fixing up a Greek/Mediterranean spread to enjoy at one of her friends' fabulous new homes. Nearly everything was made in advance and she just carted it over to the house when it was dinner time.
PERFECT!
And on another note, that woman has some pretty spectacular buddies in some amazing industries! Lighting specialists, florists, chefs, cheese makers,  vintners —I need to run in her crowd!!
But I digress….back to the food.
So with a loose Greek themed menu, we were off to the races.  For appetizers, we snacked on flaky, buttery, golden Spanakopita. I actually made them 2 weeks beforehand and stored them unbaked in an airtight container in the freezer. The day of our dinner as we sipped on chilled vino, I put them directly from the freezer into a preheated oven. 35 minutes later, our tummies were doing a happy dance.
As for the main menu, what's easier than grilling? Especially if we can task the boys to do the grill work!
MAN LIKE FIRE. <insert curmudgeon caveman voice>
And since we were going Greek, we marinated chunks of lamb and chicken in Greek yogurt with tons of lemon juice, rosemary and garlic. The proteins bathed in the marinade overnight which I think helped to reduce any extra gaminess lamb is known to have as well as keep the meat tender.
Of course, the recipe is Ina's and can be found here but I added about 1/4 cup of minced garlic to the recipe. No garlic?! Not me!
We served the chicken and lamb with an easy cucumber and fresh dill tzatziki sauce.
And how could we have a Greek outdoor feast without Pita Bread? Pita is something that is surprisingly easy to make (despite my first apprehension) and also can be made in advance. We ended up grilling the Pita to warm them but I think next time it would be better to toast them lightly in the oven because they got a tad crunchy for my liking. The recipe I used can from The Kitchn  can be found here.
I'd also be doing a disservice to the sis if I didn't talk about the light Greek Salad she whipped up with feta, cucumbers, olives, fresh dill, tomatoes and red onions –it was our MUCH needed veggies!
As for dessert, we kept things relatively light –especially since we all inhaled a TON of desserts at the anniversary party the night before. So we opted for a simple Greek Yogurt Panna Cotta and topped it with a fresh fig & berries compote.
The panna cotta was a cinch to make and had similar tart flavors to Vietnamese yogurt. As for the compote, it was nothing more than cooking the figs, strawberries, and raspberries down with about 1/2 cup white wine, sugar and a bit of vanilla.
Truth be told, I was surprised how much I did enjoy dessert considering it was a last minute addition to the plate but it was  yuuuummmmmyy!
All in all, despite how crazy tired we were from the night before, Sunday Family Dinner was quite the success.
Lounging in the backyard, dangling our toes in the hot tub, sipping on vino, naps in the sun and good food with the family. The perfect way to spend a Sunday FUNday and nothing to it but a bit of work ahead of time.
Until next month – OPA!!!!!!!!!
This Month's Family Dinner Menu
Cocktails: Chardonnay and Pinot Grigio
Appetizers: Spanakopita
Entrees: Grilled Lamb and Chicken Kebab with Fresh Dill Tzatziki Sauce, Fresh Pita Bread, Grilled Veggies, Greek Salad
Dessert: Greek Yogurt Panna Cotta with Fresh Fig and Berry Compote